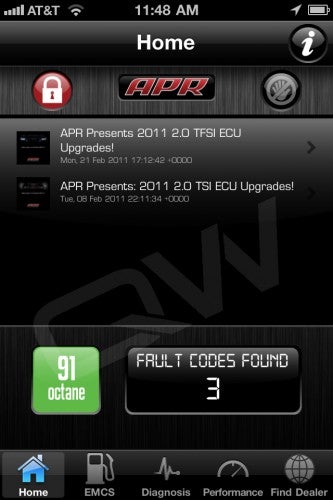 An innovative new product was unveiled during the APR distributor conference that everyone can be excited about; what will easily be one of the most powerful automotive apps in the world. APR has not yet provided a full press release, but they offered QuattroWorld an exclusive sneak peek. The product demonstration of the app through an iPhone showed multiple uses including the ability to change ECU programs, a virtual dyno, high speed data logging, fault code scanning, acceleration measurement, and much more.
This new diagnostic app is estimated to be released by Waterfest. It will initially be available for iPhone and iPad at launch, and will be expanded for availability on Android and Windows devices. What's even more exciting? No cables…it will use Wifi for Apple products, and Bluetooth and/or Wifi for Android and Windows.
"Application development for mobile smart devices is certain to be the next evolution of automotive communication technology and APR is dedicated to fully integrating elegant solutions to further enhance the driving experience with the next generation of EMCS." -Keith Lucas, APR Director of Sales and Marketing
We will be among the first to be given the opportunity to test this application out in beta mode and we will have an full, in depth review for you very soon!
Written by: Elaine Bak