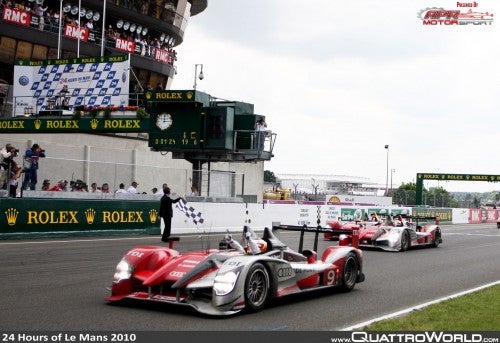 The 2010 running of the 24 Hours of Le Mans has come to an exciting and unexpected conclusion. With the speed that Peugeot showcased throughout the week it was going to be a challenge to even consider a podium finish, let alone a full on sweep. It was the hand of serious engine failures in the final hours of the race that ended the battle and gave victory to Team Joest and the Audi Motorsport team! The #9 car driven by Bernhard, Dumas and Rockenfeller took the overall victory and the threesome stood atop the podium yielding their new Rolex watches. Timo Bernhard had the exceptional honor of driving the clean diesel powered Audi R15 Plus across the finish line. The #8 car was driven by Fassler, Lotterer and Treluyer finished in 2nd. The "Dream Team" of McNish, Capello and Tom Kristensen were certainly very pleased with their podium finish in 3rd place considering they were almost taken from the race by the rookie mistake of the driver of the BMW Art Car.
I will be posting pictures and updates soon! Now I'm going to sit back, take a deep breath and think about how fortunate and lucky I have been to experience this event of a lifetime! It has been such an honor and a privilege to represent QuattroWorld here at Le Mans! I will be posting a full recap and story later this week.
Special thanks again to George from Fourtitude and Joe and Rusty from Tertre Rouge Times who all helped me out more than I could imagine by showing me around, helping me avoid rookie mistakes and most importantly sharing some amazing experiences with me! Make sure you check out their event coverage as well!