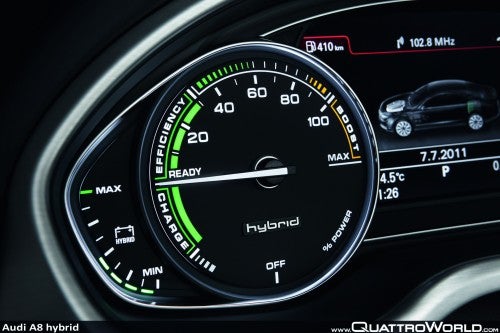 The luxury sedan with hybrid drive is on its way in 2012
245 hp system output, fuel consumption under 6.4 liters per 100 km
Four-cylinder gasoline engine, powerful electric motor and lithium-ion battery
The power of a six-cylinder model, the fuel consumption of a four-cylinder version: Audi will be starting series production of the A8 hybrid in 2012. Its gasoline engine – a 2.0 TFSI – and an electric motor develop peak output of 180 kW (245 hp) and 480 Nm (345.03 lb-ft) of torque. Average fuel consumption is below 6.4 liters per 100 km (36.75 US mpg). The sedan can travel at speeds of up to 100 km/h (62.14 mph) on electric power alone, and cover around three kilometers (1.86 miles) with zero local emissions at a constant speed of 60 km/h (37.28 mph).