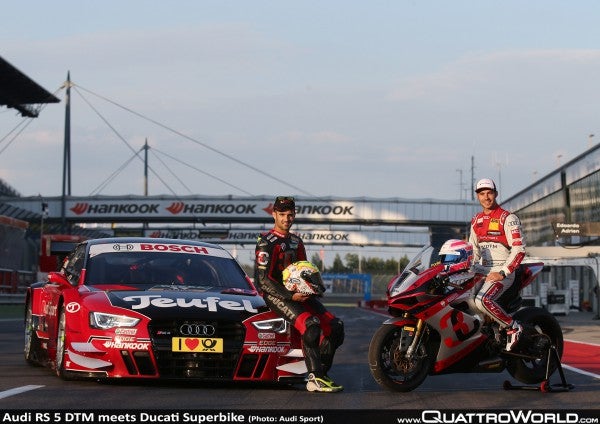 DTM and IDM at the Lausitzring
Joint weekend for Audi and Ducati
Superbike Champion Forés: "Audi RS 5 DTM is a fascinating car"
A family get-together of the fast kind: Audi DTM driver Miguel Molina and his Spanish compatriot Xavi Forés, who competes in the German motorcycle racing series IDM on a Ducati, met in the pit lane of the Lausitzring on Friday night.
Fol­low­ing the suc­cess­ful pre­miere last sum­mer, the DTM week­end on the East Ger­man race track is now billed as 'DTM meets Su­per­bike' for the sec­ond time. The tour­ing car rac­ing se­ries and the Su­per­bike*IDM are each hold­ing two cham­pi­onship rounds at the Lausitzring. And in both rac­ing se­ries the Audi Group is among the prin­ci­pal per­form­ers. Xavi Forés on his Ducati is the reign­ing mo­tor­cy­cle cham­pion and Audi the ti­tle de­fender in the DTM man­u­fac­tur­ers' clas­si­fi­ca­tion. The joint race week­end of­fers a good op­por­tu­nity to com­pare the near-460-hp Audi RS 5 DTM and the near-210-hp Ducati 1199 Pani­gale R with each other.
"A com­par­i­son of the lap times is dif­fi­cult be­cause we race on a dif­fer­ent track con­fig­u­ra­tion than the DTM," Forés, the run­ner-up in the IDM over­all stand­ings, says be­fore the race at the Lausitzring. "But I'm sure that the DTM car is faster. The Audi RS 5 DTM is a fas­ci­nat­ing car. It's fan­tas­tic that the fans get to see both."
Forés met his com­pa­triot Miguel Molina at the first joint ap­pear­ance at the Lausitzring last year. "We've stayed in touch since then and even have the same nu­tri­tion ad­viser," says Molina. "I greatly re­spect what Xavi does but would­n't nec­es­sar­ily want to swap with him. I def­i­nitely feel more com­fort­able in my Teufel Audi RS 5 DTM…"