The new RS6 Avant from quattro GmbH has left the factory grounds today. The RS6 Avant showcases the abilities of quattro GmbH's employees, having been built in the innovative 'Audi ultra' lightweight style at the Audi Lightweight Center in Neckarsulm. It consists of about 20 percent of aluminum and many components made ​​of high-alloy steels. Thus, the new Audi RS 6 Avant is almost 100 kg lighter than its predecessor. The improved power to weight ratio resulting in even greater dynamics in increased performance and reduced fuel consumption.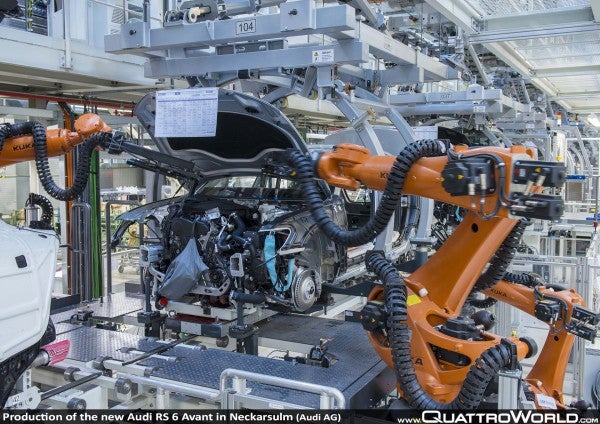 The 4.0 TFSI engine also originated at this modern development site. Thanks to lightweight construction and advanced engine technology. The high power Avant meets an average of 9.8 liters of fuel per 100 kilometers, decreasing it's consumption by about 30 percent.
Vorsprung durch Technik "Advancement through technology" and in manufacturing: In order to increase the efficiency and flexibility in the assembly for the RS models, the 450 meter long conveyor system was completely dismantled and replaced with a modern electric overhead conveyor. The modification improves the ergonomics for work on the RS 6 Avant, optimizes the production flow and creates flexibility for assembly of future technologies.